Ron Mueck: Hyper-Realist Sculptor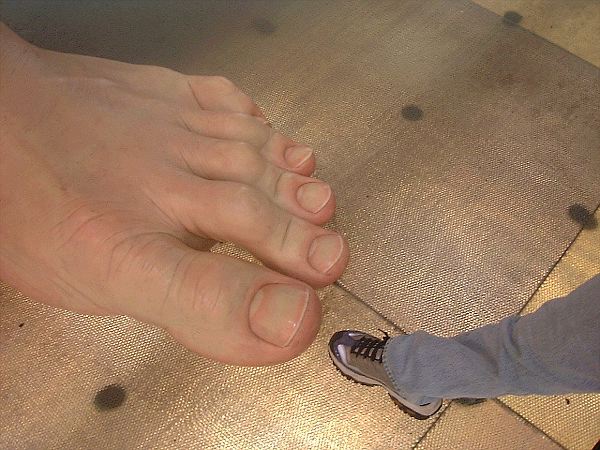 He so nearly captures that extra bit, what we call the soul or spirit, that flame inside that makes us ourselves. He takes one to the very edge of the idea of life, calls into question what it is to be a person, what it is to be human. - Marina Warner.
Ron Mueck is an Australian hyper-realist sculptor working in the UK. His incredible sculptures of creepy, grotesque, mottled skin and uncannily gigantic proportional figures have adorned the Millennium Dome as well as Charles Saatchi's living room for a number of years now. It would be fair to say, Mueck's one of the leading contemporary artists of today.
His early career was as a model maker and puppeteer for children's television and films, notably the film "Labyrinth" staring Bowie. Mueck moved on to establish his own company in London, making photo-realistic props and animatronics for the advertising industry. This eventually led him to conclude, "photography pretty much destroys the physical presence of the original object", and so he turned to fine art, in particular, sculpture.
In the early 1990s, still in his advertising days, Mueck was commissioned to make something highly realistic, and was wondering what material would do the trick.
Latex was the usual, but he wanted something harder, more precise. Luckily, he saw a little architectural decor on the wall of a boutique and inquired as to the nice, pink stuff's nature. Fiberglass resin was the answer, and Mueck has made it his bronze and marble ever since.
It's the attention to detail, technical brilliance and the (odd) scale of his figures that takes your breath away. His work, while proportionally correct, is either over or under-sized. For example, an enormous 4.5m crouching Boy, a 3 ft tall naked man, a 20 ft long newborn, a replica of his own head (seen above) 6 times its actual size. Consequently his hyper-realistic sculptures, while extraordinarily lifelike, challenge us by their odd scale. The "psychological confrontation for the viewer is to recognize and assimilate two contradictory realities". However, the real magical appeal of Mueck's sculptures lie in the meticulous process, which begins with…
crafting of a series of small clay models - this enables him decide on figure positioning
Mueck then creates a series of drawings in different sizes - this enables him to make decisions about scale
Next, Mueck sculpts the figure in clay - this includes fine details of expression and skin texture
a mould of the sculpture is made using silicone (or in the case of larger works, fibreglass).
Mueck completes the process by meticulously painting (by hand) finer details (like veins and skin tones) on the surface, before finally sculpting the eyes, bringing his creations to life.
The artist is able to achieve a very high degree of realism in his figures, which, in turn, invites close inspection. For this reason, I've purposefully included some close-ups, alongside selected works by Mueck, see below..